Description
THE WORLD'S BEST ENDPOINT PROTECTION
Malware • Ransomware • Exploits • Viruses
THE #1 RATED ENDPOINT PROTECTION
Intercept X Endpoint Features
1. Endpoint Detection and Response (EDR)
Sophos Intercept X Advanced with EDR integrates powerful endpoint detection and response (EDR) with the industry's top-rated endpoint protection. Built for both IT security operations and threat hunting, Intercept X detects and investigates suspicious activity with AI-driven analysis. Unlike other EDR tools, it adds expertise, not headcount by replicating the skills of hard-to-find analysts.
2. Anti-Ransomware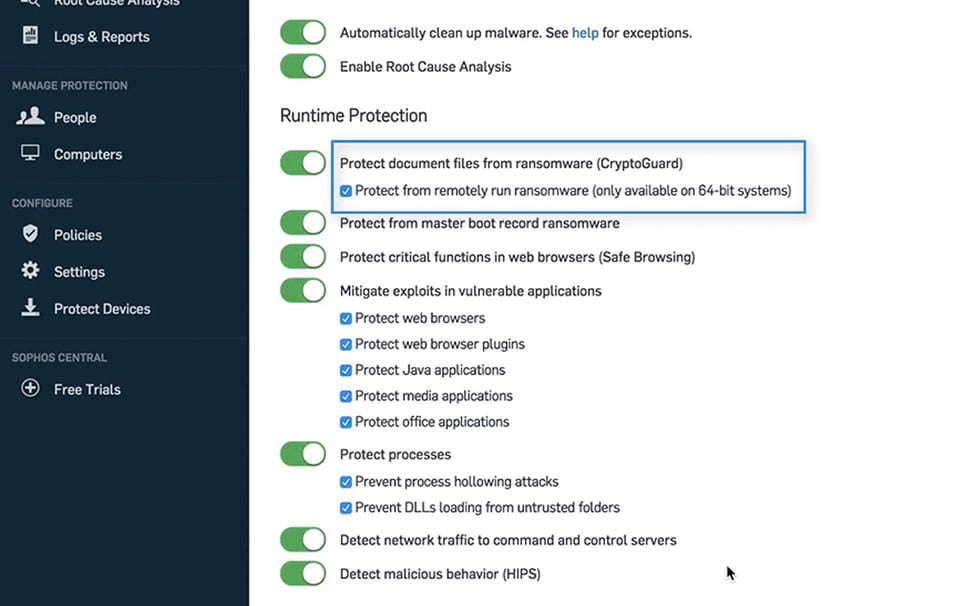 Today's ransomware attacks often combine multiple advanced techniques with real-time hacking. To minimize your risk of falling victim you need advanced protection that monitors and secures the whole attack chain. Sophos Intercept X gives you advanced protection technologies that disrupt the whole attack chain including deep learning that predictively prevents attacks, and CryptoGuard which rolls back the unauthorized encryption of files in seconds.
3. Deep Learning Technology
By integrating deep learning, an advanced form of machine learning, Intercept X is changing endpoint security from a reactive to a predictive approach to protect against both known and never-seen-before threats. While many products claim to use machine learning, not all machine learning is created equally. Deep learning has consistently outperformed other machine learning models for malware detection.
4. Exploit Prevention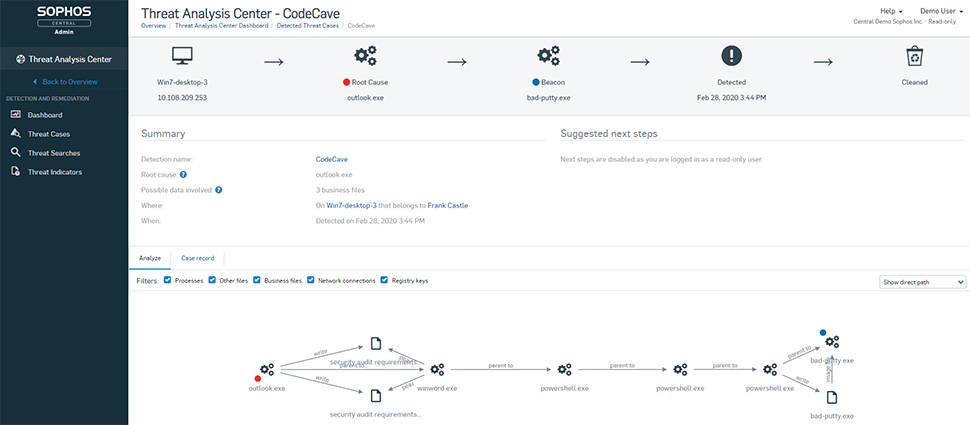 Exploit prevention stops the techniques used in file-less, malware-less, and exploit-based attacks. While there are millions of pieces of malware in existence, and thousands of software vulnerabilities waiting to be exploited, there are only handful of exploit techniques attackers rely on as part of the attack chain – and by taking away the key tools hackers love to use, Intercept X stops zero-day attacks before they can get started.
5. Managed Threat Response
Sophos Managed Threat Response (MTR) provides 24/7 threat hunting, detection, and response capabilities delivered by an expert team as a fully-managed service. Sophos MTR fuses machine learning technology and expert analysis for improved threat hunting and detection, deeper investigation of alerts, and targeted actions to eliminate threats with speed and precision. Unlike other services, the Sophos MTR team goes beyond simply notifying you of attacks or suspicious behaviors, and takes targeted actions on your behalf to neutralize even the most sophisticated and complex threats.
6. Active Adversary Mitigations
Intercept X utilizes a range of techniques, including credential theft prevention, code cave utilization detection, and APC protection that attackers use to gain a presence and remain undetected on victim networks. As attackers have increasingly focused on techniques beyond malware in order to move around systems and networks as a legitimate user, Intercept X detects and prevents this behavior in order to prevent attackers from completing their mission.
Take it for a Test Drive
Demo Intercept X endpoint in a sandbox environment. Instant access. No Installation.
#1 Rated Protection
In independent third-party testing Sophos consistently blocks more malware and exploits than competing solutions. But don't take our word for it.
Harness the Power of a Deep Learning Neural Network
Achieve unmatched endpoint threat prevention. Intercept X uses deep learning, an advanced form of machine learning to detect both known and unknown malware without relying on signatures.
Deep learning makes Intercept X smarter, more scalable, and more effective against never-seen-before threats. Intercept X leverages deep learning to outperform endpoint security solutions that use traditional machine learning or signature-based detection alone.
Stop Ransomware in Its Tracks
Block ransomware attacks before they wreak havoc on your organization. Intercept X includes anti-ransomware technology that detects malicious encryption processes and shuts them down before they can spread across your network. It prevents both file-based and master boot record ransomware.
Any files that were encrypted are rolled back to a safe state, meaning your employees can continue working uninterrupted, with minimal impact to business continuity. You get detailed post-cleanup information, so you can see where the threat got in, what it touched, and when it was blocked.
Endpoint Detection and Response (EDR)
The first EDR designed for security analysts and IT administrators
Intercept X Advanced with EDR allows you to ask any question about what has happened in the past, and what is happening now on your endpoints. Hunt threats to detect active adversaries, or leverage for IT operations to maintain IT security hygiene. When an issue is found remotely respond with precision. By starting with the strongest protection, Intercept X stops breaches before they start. It cuts down the number of items to investigate and saves you time.
The strongest protection combined with powerful EDR
Add expertise, not headcount
Built for IT operations and threat hunting
Managed Threat Response
Threat Hunting – Proactive 24/7 hunting by our elite team of threat analysts. Determine the potential impact and context of threats to your business.
Response – Initiates actions to remotely disrupt, contain, and neutralize threats on your behalf to stop even the most sophisticated threats
Continuous Improvement – Get actionable advice for addressing the root cause of recurring incidents to stop them for occurring again
Protects All Your Endpoints on All Your Platforms
Get complete protection for all your endpoints. Works across all your desktops, laptops, servers, tablets, and mobile devices. Works across all major operating systems.
A Single Console For All Your Security Applications
Sophos Intercept X endpoint protection is integrated into Sophos Central, your console for managing all your Sophos security products. Configure and administer all your tools in one place.
Endpoint Protection
Sophos Intercept X is the world's best endpoint protection, combining ransomware protection, deep learning malware detection, exploit prevention, EDR, and more in a single solution.
Synchronize Your Firewall and Endpoint Security
Strengthen your defenses with solutions that talk to each other. Synchronized Security enables your endpoints and firewall to share real-time intelligence. You'll get better protection against advanced threats and spend less time responding to incidents.
Automatically isolate infected computers.
Instantly clean up malware.
Get 100% visibility of all apps on your network.
Get Started Today