Description

Structured Cabling and Networking solutions in Kenya
Structured Cabling and Networking Solutions, Tech-Axis uses the best network products to give you the best infrastructure at a price where the highest quality and a considerable price tag.
Network cabling solutions and Infrastructure that support your business ICT needs such as Internet connectivity, Telephones and Computing and Electronic Security, and much more.
Whether you are a company, small to large enterprises are looking to utilize the latest technologies such as Voice over IP, Fiber Optic Cabling, and multimedia conferencing or simply add additional capacity to an existing network, we are happy to provide information and advice.

We design, install and administer wiring system used to transmit data, voice and video information through an entire building or from office to office. We will help you obtain the advantages and financial benefits of having a properly installed structured cabling system.
Our Cabling delivers the following benefits:
Improve system uptime
Reduce service and maintenance costs
Support future growth plans: with beyond 10Gb/s Performance
The lower total cost of ownership
Have you ever wondered what makes business communication so fast and perfect? It's nothing but the cabling infrastructure.
Cabling has a decisive role that determines how fast the information is being processed. It is essential therefore that, before planning for a great communication set up, you must have a perfect and standard cabling structure in place. Designing a cabling system is not that easy as we think, it needs a well understanding of today's standards.
The reasons why you need proper telephone cabling
It enables faster transmission of data
Good cabling prevent noise to a great extent
Lower cost of maintenance
Enable organizations to compete better in the market
Enhanced voice quality
STRUCTURED CABLING INSTALLATIONS DELIVERED ON-TIME & ON-BUDGET
Up to date technologies and Skilled Team
Our consultants and engineers can design a structured cabling network that provides the capacity, scalability and manageability required by today's demanding applications.
All structured cabling installations are fully project managed from quote stage to handover leaving you free to concentrate on your core business.
Data Cabling management and Infrastructure
All aspects of the data cabling and cable management will be undertaken from installing containment comprising Cable trays, Floor Trunking Metal trunking, or PVC cable Trunking to Data cabinets cable management.
Metal Trunking | Cable Trays and Cable Ladders
We offer Cable tray systems are the perfect solution for running large quantities of power or data cables overhead or under-floor.
Also known as baskets, trunking, or cable ladders, these systems are designed to both route and provide support for vital cabling.
Cable tray systems range from simple to highly customized, so it's a good idea to know what your application requires.
The floor Trunking System is designed for the distribution of power, data and telecom cables. Floor trunking system mainly used for the office layouts and modern building methods need a versatile arrangement of services for easy installation and flexibility in use..
We provide high performance, standards based structured cabling services for the entire network. Our structured cabling services include the design and implementation of the following standards of cabling systems:
Cat 5e Cabling
Cat 6 Cabling
Cat 6a Cabling
Cat 7 Cabling
Structured Network Cabling
We are the professionals who are competent to offer structured cabling to the communication needs. We use only the state of the art architecture cabling stated by the telecommunication standards (EIA/TIA TR42 standard).
Depending on your business requirement, we can customize the cabling solutions. If your business is looking for upgrade in the telephone cabling Nairobi Kenya, choose Tech-Axis to get the best communication experience. Our structured cabling can reduce maintenance costs, improve data transmission rates and enhance voice quality.
Some of the highlights of our telephone cabling solution in Kenya
Data and Voice cables (Cat3, 5, 5e, 6, 6e, and 7).
Rack and Cabinet Installations.
Data Center & Server Room Wire Management.
Conduit and Wire Tray Implementations.
Cabling Standards Cable Certification.
Structured Cabling and Labeling.
Cable Management.
Network Infrastructure Implementations.
Network Hub and switch install.
Voice, Video and Audio Cabling.
Low Voltage Cabling.
Terminations of Cat 5, 5e, and 6 patch panels.
Gigabit Ethernet Installations.
Office equipment relocation services.
Cat 5e
Cat 5e cabling has been the standard network cabling solution for a number of years. It is capable of providing network solutions for 100Base-T (fast Ethernet), 1000Base-T (Gigabit Ethernet) data, voice and video networks with a 100 MHz bandwidth.
Cat 6(a), and Cat7(a)
Cat6, Cat6a, Cat7, and Cat7a cabling solutions provide a network capable of handling all current and near-future network data requirements. It is capable of providing network solutions for 100Base-T (fast Ethernet), 1000Base-T (Gigabit Ethernet) data and 10000Base-T (10 Gigabit Ethernet) data, voice and video networks with a faster 250 MHz to 1000 MHz bandwidth.
BENEFITS OF STRUCTURED CABLING
REDUCES CABLING BULK & CONGESTION
Network Server and Data Cabinets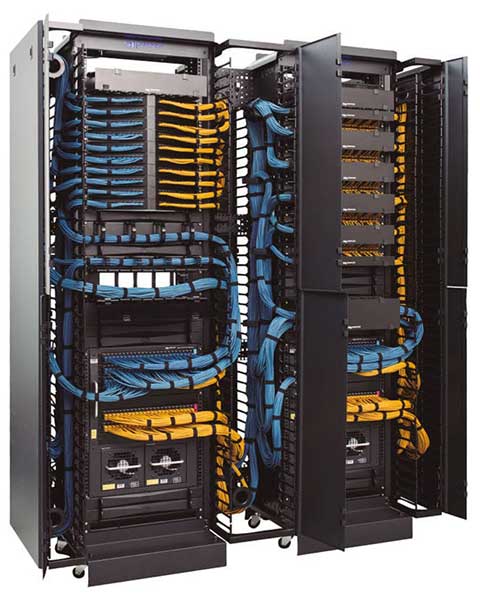 At Tech-Axis we offer a free network infrastructure assessment. We will survey and map out all your cabling connectivity as well as network components like WiFi access points, switches and routers. From this point we can help you design the network that best serves you and your customers.
We are able to provide a full range of cabinets suitable for your requirements whether it's for a small wall-mounted cabinet for an office network switch, a half-height cabinet for an office telephone system, or a full-height cabinet deep enough to house your servers with their cable handling systems.
We are also able to fully fit out these cabinets with a full range of patch panels, cable trays, and UPS power systems.
We are also able to provide a service to fully refit your existing communication cabinets so if your existing cabinets are looking a bit like a spaghetti junction then give us a call and we can provide a free network health check.
We can provide complete fibre solutions to our clients – from design, installation, termination, testing and certification, to maintenance of the fibre.
Fibre optics are steadily replacing copper wire as an appropriate means of data communication. Their high speeds and the ability to run the cables over 100m make them ideal for providing the backbone for many network systems.
Being able to span long distances also make Fiber optic cable ideal for inter connecting office buildings, schools, colleges and industrial units.
In order to cope with the ever increasing demand for higher speed and bandwidth to supply data, voice and video to a desk, Fibre to the Desktop (FTTD) is fast becoming common in the modern office. With FTTD each desk is supplied with a small fiber cable from the patch panel and terminated into a wall socket similar to the way cat5e cables are currently being used.
Wireless networking is an ideal alternative to renting expensive leased lines or digging and laying fiber between locations where line of sight is between buildings is possible.
Wireless Networks can provide a fast 100 Mb to 1 Gb, secure connectivity for data, voice and video over short distances typically up to 1 Km.
Business does not happen just indoors-as wireless LAN (WLAN) devices proliferate, the need to provide them connectivity extends outdoors. Applications such as hot spots, outdoor surveillance, outdoor inventory control, or outdoor baggage handling all stretch the need for WLAN access. And it is not just providing access to client devices-remote networks need to be connected as well. These networks could be in remote buildings, or mobile networks that are located outside.
These applications can be deployed cost-effectively with equipment designed specifically for these environments.
We can not only provide traditional telephone cabling but can also provide the full range of Smart unified IP Business Telephony Communications Systems such as Yester , Zyco,
Our team of experts are able to bring together voice, data, video, security and wireless in a single affordable solution.
We install structured cabling solutions for clients large and small in the private, public and charity sectors.
We employ trained, qualified and highly experienced network cabling design consultants, project managers and data cabling installation engineers.
We provide network cabling systems from many leading manufacturers including Siemon, D-Link and Giganet.